Esta documentación de uso asume que usted ya siguió los pasos de instalación del bot.
Comandos
@all-contributors add
Comentar sobre un Issue o Pull Request, pidiendo a @all-contributors que añada un colaborador:
@all-contributors please add @<username> for <contributions>

<contribution>: Consulte la Emoji Key (Referencia de Tipos de Contribución) para una lista válida de tipos de contribución.
El bot entonces creará un Pull Request para agregar al colaborador, para luego responder con los detalles del Pull Request.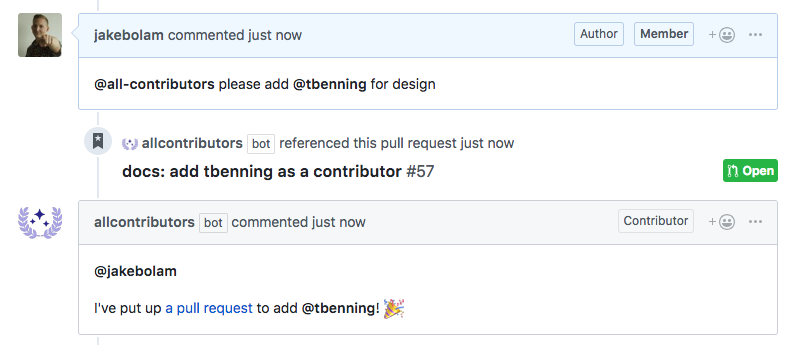 Tu solicitud al bot no necesita ser perfecta. The bot will use basic Natural Language Parsing to determine your intent. Por ejemplo, esto también funcionará:

Jane lo está trabajando duro en la documentación y su trabajo en infraestructura también ha sido genial. Let's add @jane.doe23 for her contributions. cc @all-contributors

The bot will work best in parsing your comment correctly if you precede the contributor's username with @ as shown above. Otherwise, the bot may not correctly identify the user.
¿Qué sigue?