Cette documentation d'utilisation suppose que vous avez déjà suivi les étapes d'installation de bot.
Commandes
@all-contributors add
Commentez sur un problème ou sur une demande de tirage, demandant @all-contributors d'ajouter un contributeur:
@all-contributors please add @<username> for <contributions>

<contribution>: Voir les Clé Emoji (Référence des Types de Contribution) pour obtenir une liste de types de contribution valides.
Le bot va crée une demande de tirage pour ajouter le contributeur, puis répondez avec les détails de demande du tirage.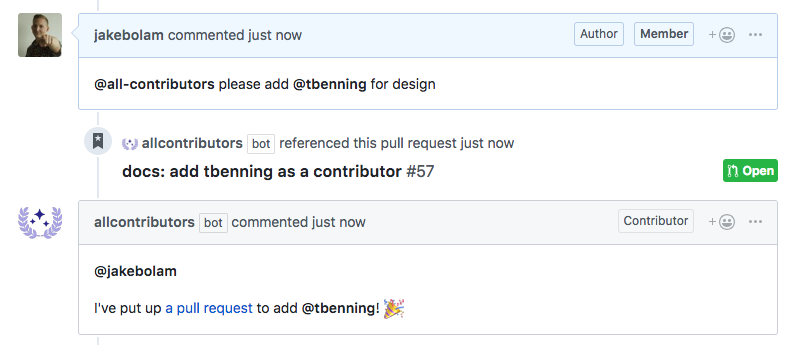 Votre demande au robot n'a pas besoin d'être parfaite. The bot will use basic Natural Language Parsing to determine your intent. Par exemple, cela fonctionne aussi :

Jane you are crushing it in documentation and your infrastructure work has been great too. Let's add @jane.doe23 for her contributions. cc @all-contributors

The bot will work best in parsing your comment correctly if you precede the contributor's username with @ as shown above. Otherwise, the bot may not correctly identify the user.
Et ensuite